Application:
For no city power areas, the battery pack can be charged by solar panels and used for night lighting;  For the areas that city power is expensive, the battery pack can be charged during the electricity valley value period, and used at the peak power period; For the areas which power off from time to time, the battery pack can be used as UPS, to avoid information loss caused by the sudden power outage.  The battery pack is applicable to commercial lighting, industrial lighting, home lighting, outdoor lighting, camping tourism,farming, planting, night market stalls, etc.
 Features:
LiFePO4 battery, more stable and safe .

Intelligent BMS equipped inside to maintain the battery always work at best condition .

Max. charge and discharge current as 150A which is specially designed for solar energy .

With equalizer can balance each lithium cell voltage difference as small as 0.05V in a very short time .

It can be connected in series to 24V, 36V, 48V .

Excellent standby self-consumption as low as 4mA .

Automatically output cut off after 30days no charge and discharge to ensure security , also can cut off output by manual operation .
Product Size:
Technical Parameters: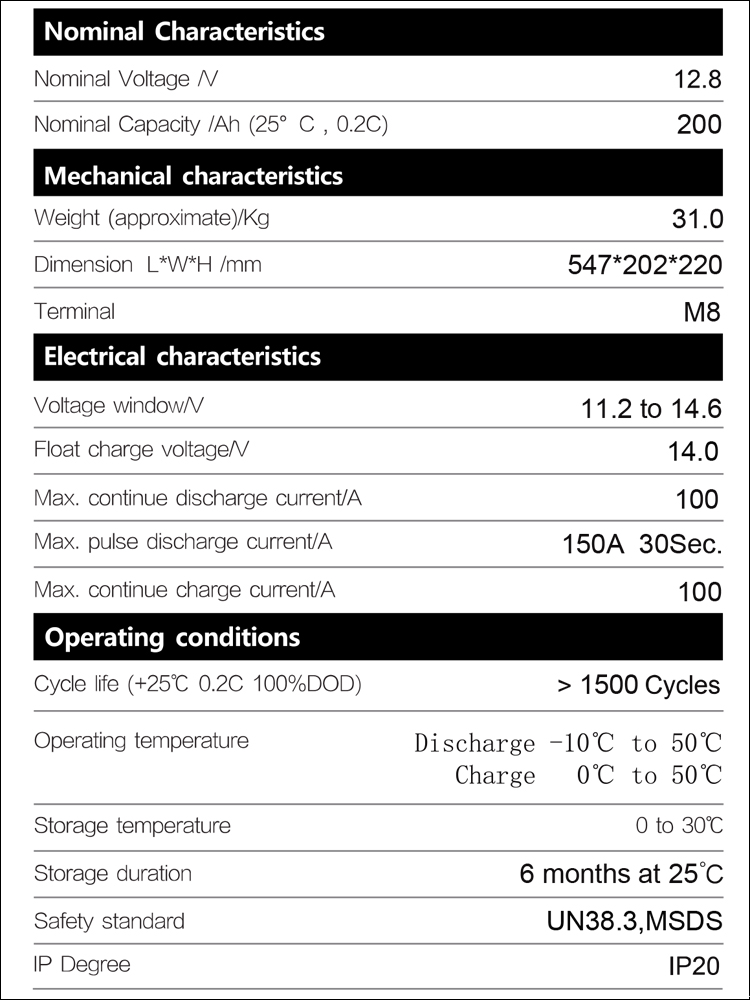 High quality aluminium magnesium alloy, anti-corrosion, substantial, durable, artistic, practical.The Advantages of LiFePO4 Battery:
All in one mould design and production, easy to install.

With longer span life LiFePO4 battery, over 12 years lifespan, ensure the whole set products'life span.

Dustproof structure d esign, DC output, safe and reliable.

Integrated packaging, safe and convenient to transport.
Battery Cell Specification:
Storage and Transportation
1.Based on the character of cell, proper environment for transportation of LiFePO4 battery pack need to be created to protect the battery.
2.Battery should be kept at -20℃—45℃ in warehouse where it's dry, clean and well-ventilated. During loading of battery, attention must be paid against dropping, turning over and serious stacking.
---
Previous:
12V 100Ah Lifepo4 Deep Cycle Battery
---